What you should know about….Ceramic Tile or Hardwood Flooring
So you decided you want to redo the flooring in your home. You had a flood, you've just moved in or you are just tired of your old floors. I want to give you two great options that are both beautiful and long lasting.
While hardwood floors and ceramic tile both offers homeowners a long-lasting beautiful floor they both also have advantages and disadvantages as far as upkeep and installation.
Hardwood Floors
Hardwood floors have two common types, engineered and solid planks.
Engineered 
Engineered hardwood is made of a core of hardwood or plywood with a layer of hardwood veneer affixed to the top surface. It's more resistant to moisture and heat compared to solid hardwood. These floors come in narrow planks (similar to solid) and in wide planks that look like several planks glued together. Engineered floors can be installed by gluing down to the sub-floor, stapling to a wood sub-floor, or floated over a variety of existing sub-floors. Engineered floors are more dimensional stable than solid wood floors and can be used in many areas of the home, including over concrete slabs. Also, an engineered wood floor that is going to be installed with the floating installation method will be less costly to install per square foot than installing a ceramic tile floor in the same area.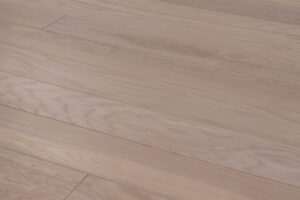 Solid wood
Solid hardwood floors are just that — they're made from solid wood. Each board of solid hardwood flooring is made from a single piece of hardwood that's about 3/4 of an inch thick. Because it's so thick it can be sanded down and refinished for however long the flooring is in the house. These floors should only used over a wood type sub-floor and where humidity is not an issue and have to be nailed-down during installation. Contrary to popular belief wood floors can be used in bathrooms and kitchens
Hardwood floors can be scratched by furniture, children and pets. Wooden floors can also become discolored in area with high sun exposure. Prolonged exposure to water can warp the boards.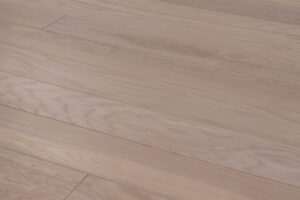 Ceramic Tile
Ceramic floor tile is made from clays or other inorganic materials. They are created in thin slabs which make them easy to install. These floors are so durable that Pompeii ruins still has many examples. Ceramic tile is a good choice for wet areas, such as bathrooms and kitchens as well as front foyers because it's easy to clean and doesn't harbor germs. In some areas of the country (especially the warmer climates) ceramic tiles are used throughout the home because they remain fairly cool throughout the year. Be sure to choose a tile you want to live with for a long time, because it is very costly to replace existing tile.  Now with many wood look ceramic tile options one can have the best of both worlds.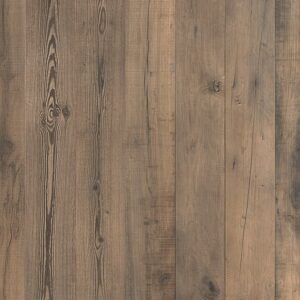 Ultimately the choice remains yours with both of these great options. For samples or help with your flooring project.